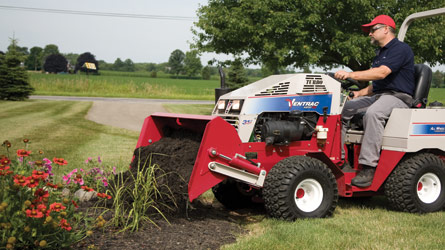 Video Clip

Watch the Slip Scoop in Action
Slip Scoop Advantages:
Handy to move dirt, sand or gravel in tight, small areas
Hydraulically controlled from the driver's seat
Just the right size for landscaping jobs where space is an issue
Mounts on the tractor with ease using the Ventrac Mount system
Versatile use at a job site or in your own backyard
Choice of 30" to 48" bucket sizes
Featured Product
Product Feature:
A compact Ventrac tractor with an HE
slip scoop
presents a great advantage when you need to move in and around small spaces and work around tight areas where large tractors can't go.
HE Slip Scoops are a must-have power attachment for any landowner, municipality, landscaper, small farm, resort, camp, park and hobby farm. The Scoop allows you to dig, move or level a wide variety of materials like mulch, soil, gravel, sand, and more. Combined with the Ventrac 3000 or 4000 series tractors, the slip scoop performs efficiently in areas with little room or on rough terrain and hillsides.
---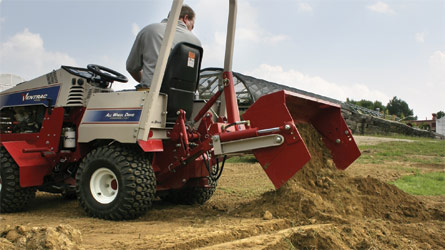 Video Clip
Watch the Excavator Bucket in Action.

Watch Video
Excavator Advantages:
Dual cutting edges for greater uses
Can also be used for removing sod
Innovative design allows for forward or reverse excavation
Optional rear operation with 3-N-1 adapter & 3-point hitch
Excavates and hauls material all in one attachment
Ruggedly built for high performance
Featured Product
Product Feature:
Ventrac Excavator buckets get down and dig to get your work done moving soil, debris, mulch, and more.
HJ Excavator bucket attachments can haul, dig and excavate various materials as well as cut sod. Designed with two cutting edges to give you more flexibility. The serrated cutting edge works well in hard soils and serious excavating. The smooth edge is great for peeling back sod at a desired depth.