AERATION
Ventrac offers a variety of aeration tools to help meet your aeration needs. Aeration is an important but often overlooked aspect of proper lawn maintenance. Ventrac's two uniquely designed aeration attachments help bring new life to your lawn and aid in maintaining that professionally cultivated look. Discover why Ventrac is your Aeration Solution.
Heavy-Duty Vibrating Tines
The Aera-Vator provides two levels of aeration benefits for your lawn. The heavy-duty tines aerate at 9 holes per square foot while the rotary bar vibrates the tines to help break up soil and loosen the roots beneath the surface for increased water and oxygen absorption.
Reseed While Aerating
With the optional Gandy Seeder for the Aera-Vator, you can save time and work by reseeding your lawn at the same time as aeration. Laying new grass seed while aerating increases the odds of germination for thicker and healthier lawns.
Ventrac Gets You More Places
The All-wheel-drive compact utility 4500 is rated for slopes of up to 30 degrees, (when properly equipped) and is capable of handling various turf conditions allowing you to aerate areas previously inaccessible with other aeration tools. This is very helpful to get into places, such as wet patches were water puddles up frequently, to refresh and renew the turf.
The Aerator Gives You Options
The EB480 Aerator has three different aerating tools for you to choose from to suit your specific turf needs. Whether you need to core, fracture, or simply slice your lawn Ventrac has you covered.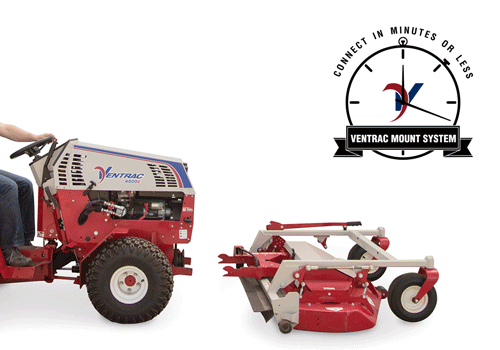 With a little practice, you can switch almost any attachment within a minute, without any tools or heavy lifting.
No Need for Extra Equipment
Because Ventrac is your One Tractor Solution there's no need to invest thousands of dollars in extra equipment that is good for only one task. Your Ventrac 4500 is your aerator, mower, leaf blower, snow remover and so much more!
Out Front Attachments
When attachments are in front of the tractor, you have increased visibility, better reach under trees, and more control over the work being done. Better visibility also creates a safer environment for the operator and bystanders.
Patented hand controls allow for simple, comfortable operation right at your fingertips. Professionals trust this intuitive design to get their work done more efficiently. (Available on the 3400 & 4500)
Aera-vator & Seedbox
Aeravator in Slow Motion
Aeration Equipment
BOLD Lawn Stripes with an Aera-Vator