MATERIAL LOADING AND MOVING
Ventrac is one of the most versatile machines you will find and a major part of that is in loading and moving various materials using the indispensable Power Bucket or the powerful Versa-Loader. Whether you are a lawn care professional, estate owner, or grounds manager discover why Ventrac is your Material Loading/Moving solution.
With the optional Grapple, your Power Bucket transforms into the ultimate tool, allowing you to securely transport debris, brush, branches, and logs with ease.
Increase the capability of your Power Bucket capacity by a full 75%, from 6 cubic feet to 10.5 cubic feet. They are perfect for mulch, loose debris, and other light weight applications.
Versatility
Move stone, brush, mulch, and more with the Ventrac Power Bucket.
Increased Efficiency
The Ventrac-Versa Loaders 5 feet/square-foot capacity allows operators to carry up to 500 lbs per bucket load.
High Lift
The Versa-Loader offers increased versatility with over six feet of lift ability.
Joystick Control
The Versa-Loaders single-handed control provides operators a smooth experience.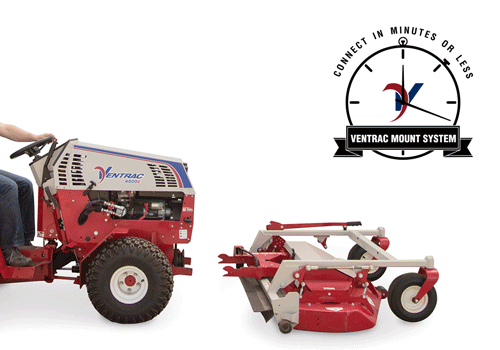 With a little practice, you can switch almost any attachment within a minute, without any tools or heavy lifting.
Patented hand controls allow for simple, comfortable operation right at your fingertips. Professionals trust this intuitive design to get their work done more efficiently. (Available on the 3400 & 4500)
All-Wheel Drive
Full-time, all-wheel hydrostatic drive delivers maximum performance and traction to help you get the job done.
Ventrac isn't a big-box store throw-away tractor. These tractors are built for industrial use with commercial engines, and heavy duty transaxles for reliable performance year after year.
Power Bucket Features
The Handiest Wheelbarrow
Ventrac: The 4-Wheel Drive Wheelbarrow
Loader Attaching
GALLERY