SITE PREPARATION
Ventrac is the ideal choice for soil and site preparation because of the number of attachments, which can be switched in minutes, available to help with virtually every aspect of the job. Whether you're prepping a new lawn, creating a garden or flower bed, or leveling soil Ventrac offers the right tools for the job eliminating the need for using several different expensive machines. Discover more why Ventrac is your Site Preparation Solution.
No Need for Extra Equipment
Because Ventrac is your One Tractor Solution there's no need to invest thousands of dollars in extra equipment that is good for only one task. Your Ventrac 4500 is your aerator, mower, leaf blower, snow remover and so much more!
Patented hand controls allow for simple, comfortable operation right at your fingertips. Professionals trust this intuitive design to get their work done more efficiently. (Available on the 3400 & 4500)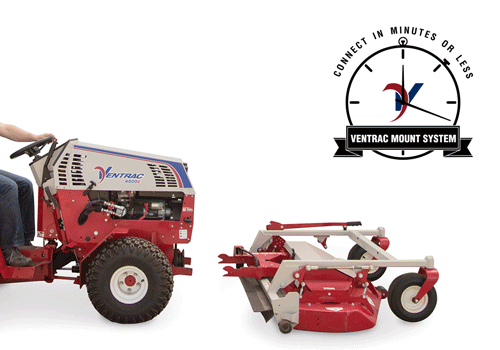 With a little practice, you can switch almost any attachment within a minute, without any tools or heavy lifting.
Ventrac isn't a big-box store throw-away tractor. These tractors are built for industrial use with commercial engines, and heavy duty transaxles for reliable performance year after year.
All-Wheel Drive
Full-time, all-wheel hydrostatic drive delivers maximum performance and traction to help you get the job done.
Out Front Attachments
When attachments are in front of the tractor, you have increased visibility, better reach under trees, and more control over the work being done. Better visibility also creates a safer environment for the operator and bystanders.
Increase the capability of your Power Bucket capacity by a full 75%, from 6 cubic feet to 10.5 cubic feet. They are perfect for mulch, loose debris, and other light weight applications.
Compact Design
The 4500 tractor's compact design allows you to operate the Ventrac Trencher in tight spaces.
Reverse Operation for Undisturbed Tilled Areas
Clear Debris For New Lawns
Heavy Duty Construction
The Ventrac Trenchers heavy duty carbide tips allow operators to cut through tough terrain.
Prepare New Lawn Installation
Remove surface rocks and debris, creating a level, prepped finish for seeding.
Renovate Driveways
Refresh a gravel driveway by bringing old gravel back to the surface for a fresh gravel finish.
YMCA Seedbed Preparation
Compact Tractor Solution
Year Round Maintenance
The Handiest Wheelbarrow
Digging Trenches with Minimal Lawn Damage
Loader Attaching
Ventrac Vs. Mini Skid Steer: Trenching
GALLERY